October 29th 2016 CCR Panel Roundtable
Our panelist for October 29th was the Missouri Diocese of Kansas City – St. Joseph.  The Diocese employs around 2400 employees.  This one organization brought a listing of 40 currently open positions, and was ready to hire on the spot.
CCR Panel Roundtables are an opportunity for business owners, hiring managers, and job club alumni to share company culture and employment opportunities 'face-to-face with' qualified and professional job seekers. Dress is Business Casual.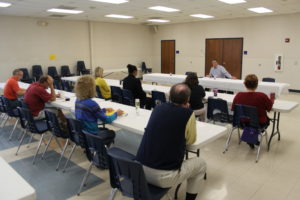 CCR is a 501(c)(3) and your donations are tax deductible. Go to catholiccareerroundtable.com and click on "Donate to CCR", or mail your donation directly to: CCR Job Club, 7000 W. 99th Street, Overland Park, KS 66212.