October 24, 2015 CCR Panel Roundtable (Prayer Pictures)
CCR Panel Roundtables are a unique opportunity for business owners, job club alumni, and hiring managers to share company culture and employment opportunities face-to-face with qualified and professional job seekers.
October 24th Panelist included guests from: Amazon, Russell Stover, UPS, and Waddell & Reed.  Each company representative shared numerous openings within their respective companies.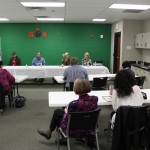 "This is a great meeting, and those who attended were impressive.  I'd like to come back when we have more openings." (Panelist)
"What is a prayer picture"  (Job seeker)   "We open each meeting with prayer for our job seach, and we close in prayer for all those who need our support.  Today we prayed for one of CCR's Facilitator. The picture will be framed and emailed/hand carried to him – that is what a prayer picture is!"   (Job Seeker – Facilitator)