Catholic Career Roundtable Job Club (CCR)
People finding people jobs.  CCR holds weekly workshops for all those in transition.  At these informal meetings we discuss the nuts and bolts of career transition, identify target companies and celebrate wins! There are no fees for job seekers or employers who attend.  View our Resource tab above!
The CCR is a 501(c)(3) and your donations are tax deductible. Use PayPal here or mail your donation directly to:  CCR Job Club, 7000 W. 99th Street, Overland Park, KS 66212.
                                                               Location /Time / Contact
                                                                    Good Shepherd Parish 
                                                         12800 West 75th   Shawnee, KS  66216
                                                            8:30  – 9:30 AM  Job Seeker updates
                                                            9:30 – 10:00 AM  Networking
                                       CatholicCareerRoundtablekc@gmail.com or 816.582.1809
Note:  Alumni Day is August 26th
.  CCR will be hosting a
                                   few guests 
who will share what life is like after job club.  
CCR Update:  As of August 14, 2017 six of our attendees have found gainful employment in the past two weeks.
 Weekly workshops:
Since CCR's inception March 2009, we have taken part in:
·         Assisting  Catholic and non-Catholics find gainful employment.
·         Assisted 4200+ job seekers with our weekly meetings in the past eight years.
·         Broadcasting monthly updates to a database of 2100+ job seekers.
·         Continuation of a resource for both the job seeker and the employer to include current job postings on the CCR web site.
Previous Panel Roundtables: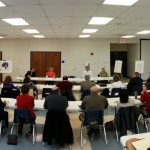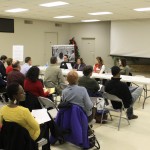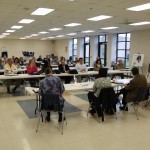 In addition, CCR Facilitators are available to launch our Job Club within your parish, church or community. This initiative complements an ever growing database of businesses who are sharing opportunities with our professionals seeking new careers as well as parishioners who are networking and praying for ALL those in transition.
By the Grace of God and your support the CCR enters its seventh year helping all those in transition. Donations can be made here using PayPal or you may mail your donation directly to:  CCR Job Club, 7000 W. 99th Street, Overland Park, KS 66212.  Please let us know if you want your donation earmarked for the Rick Alvarez benevolent fund.